Shared by Rottem Lieberson
The Shavuot Pasta on the Laundry Line
Family Journey
Tehran, Iran
Sha'ar Haliyah (near Haifa), Israel
Jerusalem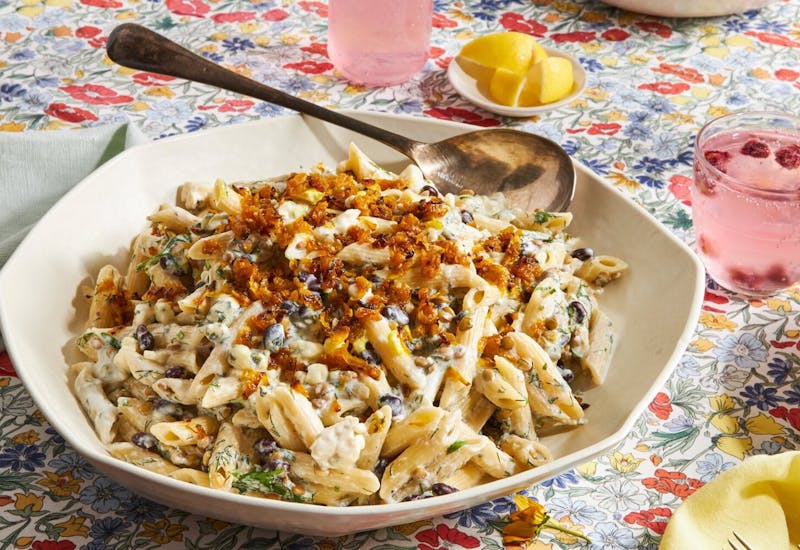 Pasta With Yogurt, Beans, and Herbs
4-6 servings
Overnight soaking (optional) + 1 h and 30 min
Ingredients
1 cup dried black beans or canned black beans, rinsed and drained
1 cup black or green lentils, rinsed
2 tablespoons olive oil plus more for garnish
2 large yellow onions, finely chopped
1 teaspoon ground turmeric
32 ounces goat yogurt
⅓ cup water
1 bunch fresh cilantro or parsley leaves, roughly chopped
1 bunch fresh dill leaves, roughly chopped
5 cloves garlic, thinly sliced
1 ½ - 2 teaspoons salt 
½ teaspoon ground black pepper 
3 ounces roquefort cheese (or any other blue cheese), crumbled
1-2 tablespoons lemon juice
1 pound dried penne pasta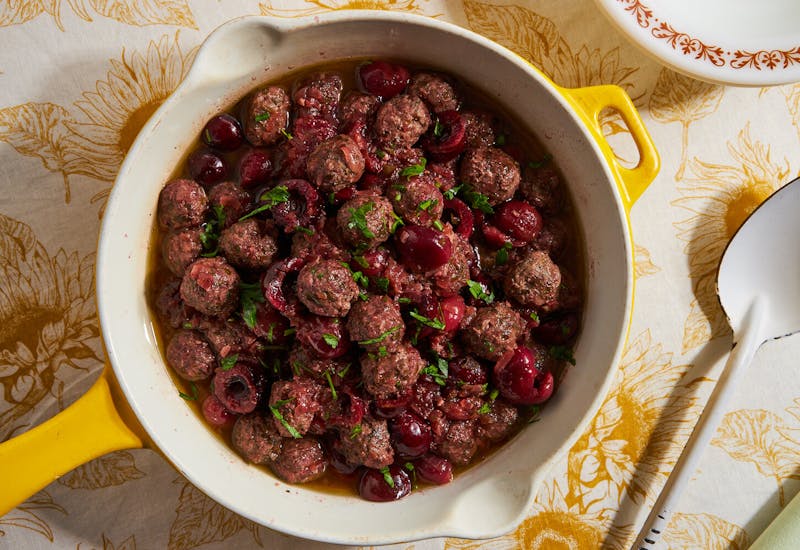 Meatballs With Cherries
Ingredients
For the meatballs
1 pound ground lamb
1 yellow onion, finely chopped
1 teaspoon baharat spice mix
1 ½ teaspoons salt 
¼ teaspoon ground black pepper 
½ cup fresh parsley leaves, finely chopped
½ cup fresh mint leaves, finely chopped
1 egg
3 tablespoons breadcrumbs
2 tablespoons olive oil for frying
For the sauce
2 tablespoons olive oil
1 yellow onion, finely chopped
3 cloves garlic, thinly sliced
1 cup beef broth, chicken broth or water
2 tablespoons soy sauce
⅓ cup fresh lemon juice
½ green chili, finely chopped
1 cup pitted fresh cherries or defrosted frozen cherries (plus 1 more cup if not using sour plums) 
1 cup small green sour plums (optional)
1 tablespoon plum jam or sugar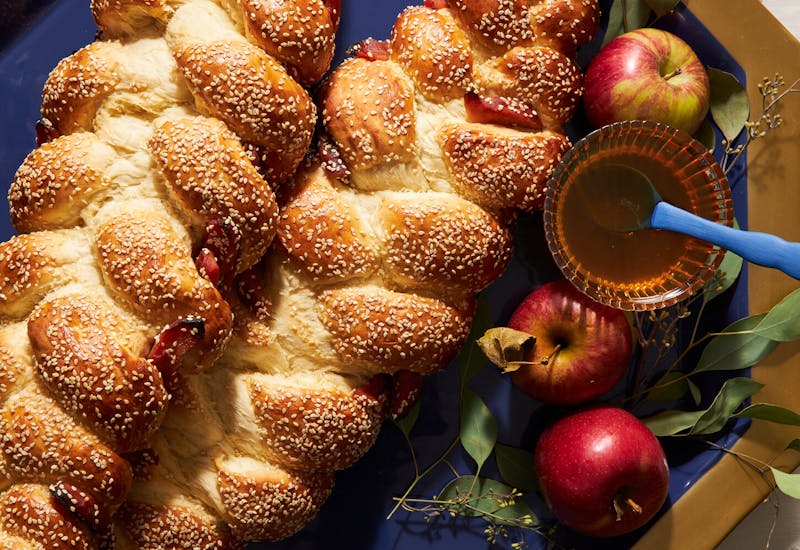 Sweet Challah
2 challahs
1 h 40 min active + 12 to 14 h inactive
Ingredients
For the dough starter
1½ cups all-purpose flour
¼ teaspoon dry active yeast
1 cup room temperature water
For the dough
5½ cups plus 1 tablespoon all-purpose flour
2 tablespoons active dry yeast
Dough starter
2 eggs
5 tablespoons sugar
4 tablespoons olive oil + more for greasing
1 to 1¼ cups water
1 tablespoon kosher salt
For the caramelized quince
4 quinces, peeled, cored and sliced into 12 wedges lengthwise each
¾ cup sugar
4 cardamom pods
1 cinnamon stick 
For the egg wash
1 egg
½ teaspoon water
1 cup sesame seeds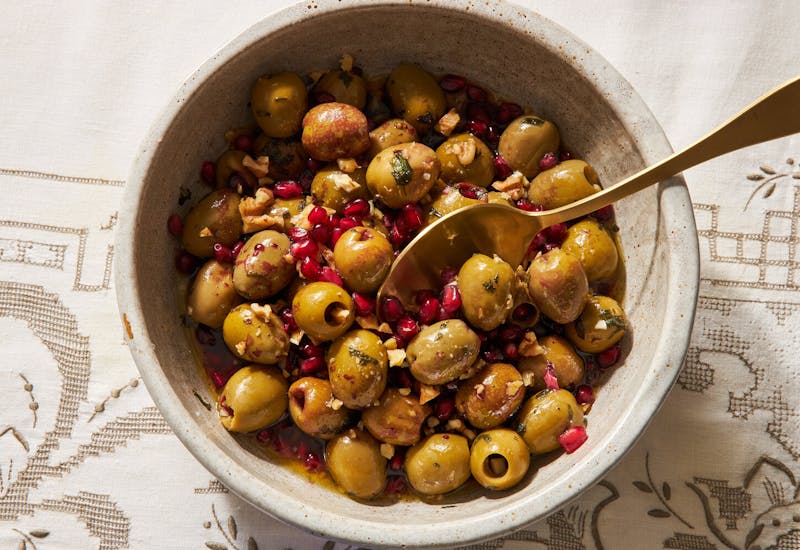 Olive Salad With Pomegranate
Ingredients
2 cups pitted green olives
2 garlic cloves, finely chopped
1 cup pomegranate seeds
⅓ cup pomegranate concentrate
⅓ cup plus 1 tablespoon fresh mint, roughly chopped, divided
⅓ cup olive oil
1 teaspoon kosher salt
¼ teaspoon ground black pepper
1 teaspoon roasted walnuts, roughly crushed for garnish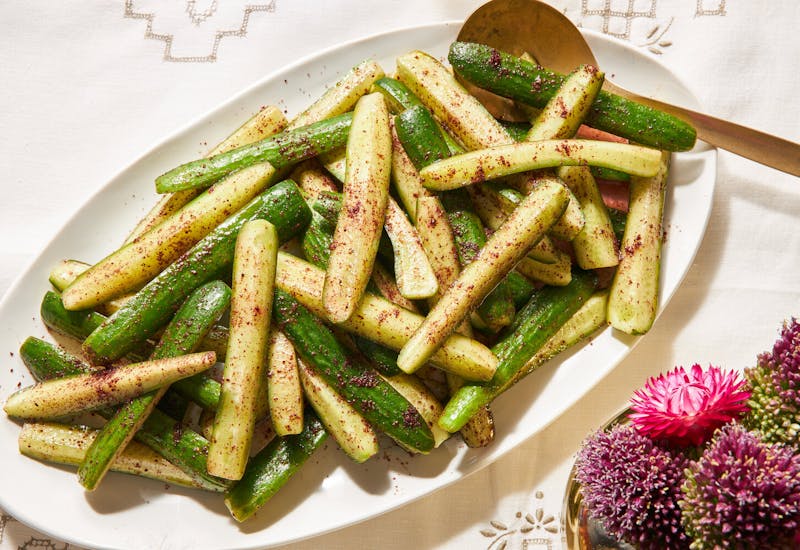 Cucumber, Mint, and Sumac Salad
Ingredients
12 persian cucumbers, cut into quarters lengthwise
1½  tablespoon ground sumac, divided
¼ cup olive oil
¼ cup fresh lemon juice
1 teaspoon kosher salt
¼ cup fresh mint leaves for garnish (optional)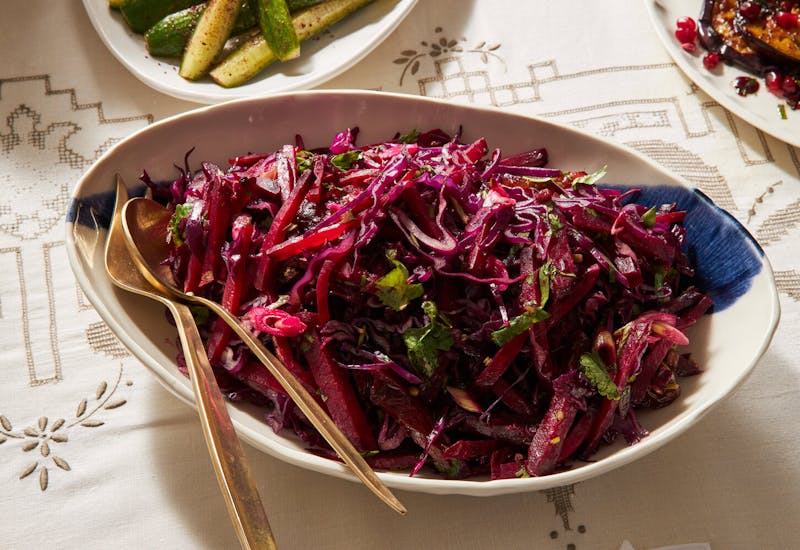 Red Cabbage, Date, and Beet Salad
4 to 6 servings
1 h 15 min
Ingredients
4 large beets
½ red cabbage, cored and thinly sliced crosswise
5 dried dates, pitted and thinly sliced lengthwise 
1 jalapeño pepper, finely chopped (optional)
⅓ cup fresh cilantro or scallions, finely chopped
1 teaspoon salt
1 tablespoon olive oil
Juice from 1 lemon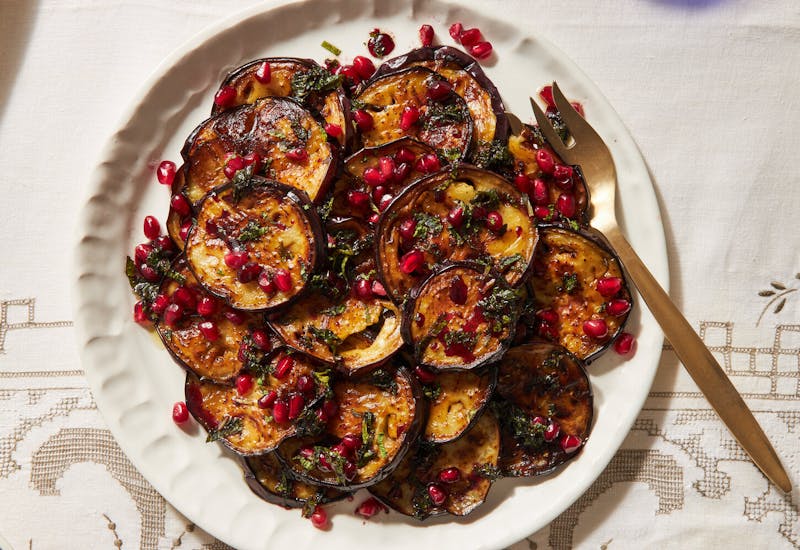 Fried Eggplant With Mint Vinaigrette
Ingredients
2 medium eggplants, sliced into ¼-inch pieces crosswise
1 tablespoon coarse sea salt
¼ cup vegetable or grapeseed oil for frying
For the vinaigrette
2 tablespoons pomegranate concentrate
⅓ cup olive oil
1 cup fresh mint leaves, finely chopped
1 teaspoon kosher salt
¼ teaspoon ground black pepper
1 tablespoon pomegranate seeds for garnish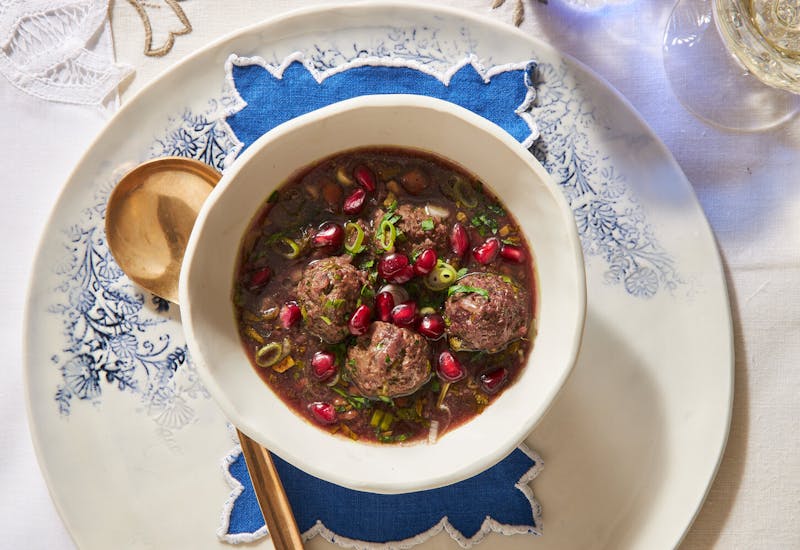 Ashe Anar (Pomegranate Soup With Meatballs)
Ingredients
For the soup
3 tablespoons olive oil
2 large yellow onions, finely chopped
8 garlic cloves, thinly sliced
½ cup basmati rice, rinsed and drained
½ cup yellow lentils
½ teaspoon ground turmeric
1 tablespoon kosher salt
¼ teaspoon ground black pepper
3 quarts (12 cups) water
1 cup fresh cilantro, finely chopped
1 cup fresh parsley, finely chopped
1 cup fresh mint plus more for garnish, finely chopped
2 to 3 bunches scallions (about 20), finely chopped
1 cup pomegranate concentrate
¼ cup to ½ cup granulated sugar (optional)
For the meatballs
1½ pounds ground beef 
1 yellow onion, finely chopped
1 garlic clove, crushed
1 cup fresh cilantro, finely chopped
1 teaspoon kosher salt
1 teaspoon ground black pepper
Pomegranate seeds for garnish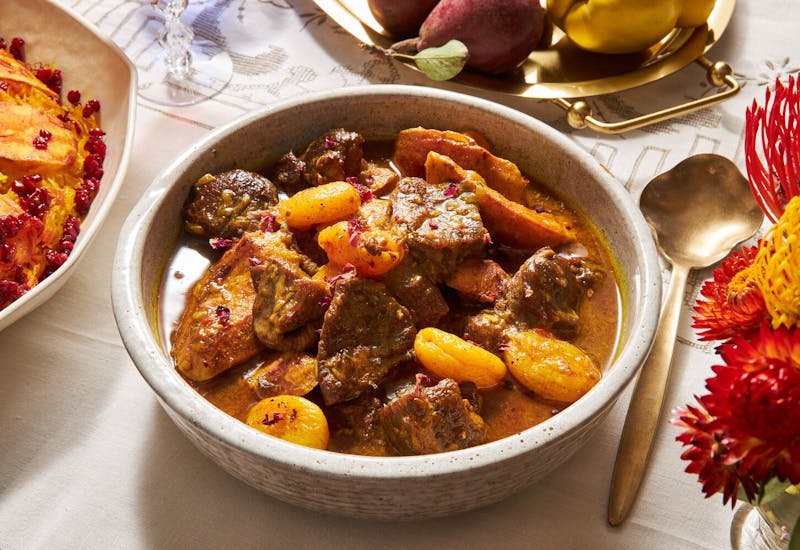 Khoresh e Beh (Lamb Stew With Quince and Dried Apricot)
Ingredients
5 quinces or red apples, peeled, cored and quartered
2 tablespoons lemon or lime juice
5 tablespoons olive oil, divided
1 yellow onion, finely chopped
3 garlic cloves, thinly sliced
1½ pounds lamb (neck/shoulder cut), cut into 1½ -inch cubes
1 tomato, finely chopped
½ teaspoon dried rose petals
⅓ teaspoon ground cardamom
1 teaspoon ground turmeric
4 cups water
1½ teaspoons kosher salt
¼ teaspoon ground black pepper
1 teaspoon cinnamon
⅛ teaspoon ground nutmeg
⅛ teaspoon ground cloves
2 tablespoons all-purpose  flour
10 dried apricots
2 tablespoons sugar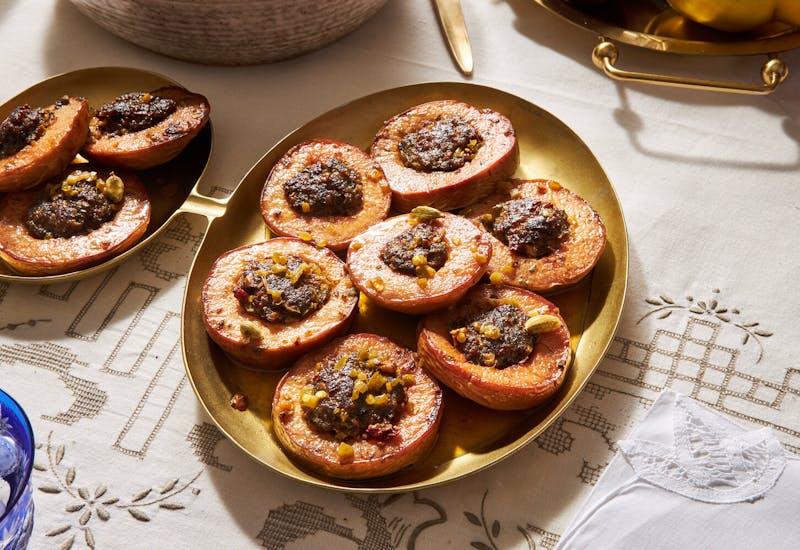 Dolmeh Beh (Quince Stuffed With Beef and Cardamom)
Ingredients
For the filling
1 yellow onion, peeled and cut in half
1 pound ground beef or lamb
1 tablespoon fresh tarragon, finely chopped
½ cup fresh cilantro, finely chopped
⅓ cup roasted unsalted pistachios, finely chopped
1½ tablespoons barberries
1 teaspoon salt
1 teaspoon advieh (Persian spice mix)
For the sauce
2 saffron threads
⅛ teaspoon sugar
2 tablespoons boiling water
2 cups chicken broth or water
2 cardamom pods
½ jalapeno, finely chopped
1 tablespoon fresh lemon juice
1 teaspoon kosher salt
¼ teaspoon ground black pepper
For garnish
Roasted unsalted pistachios, finely chopped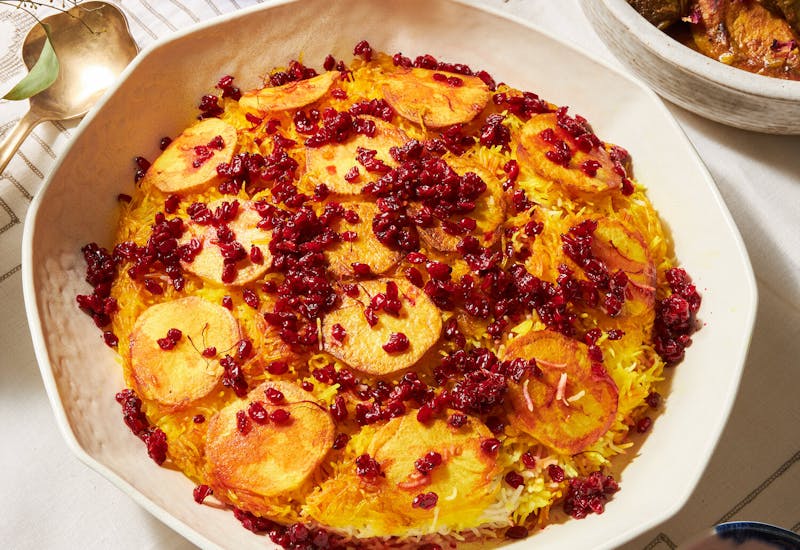 Tahdig (Crispy Saffron Rice With Barberries and Potatoes)
Ingredients
For the sauce
¾ cup barberries
7 threads saffron
¼ cup boiling water
1 tablespoon vegetable oil
1 tablespoon sugar
For the rice
3 tablespoons kosher salt, divided
2¼ cups basmati rice 
6 tablespoons vegetable oil
½ teaspoon ground turmeric
1 large russet potato, peeled and cut into ¼ inch slices crosswise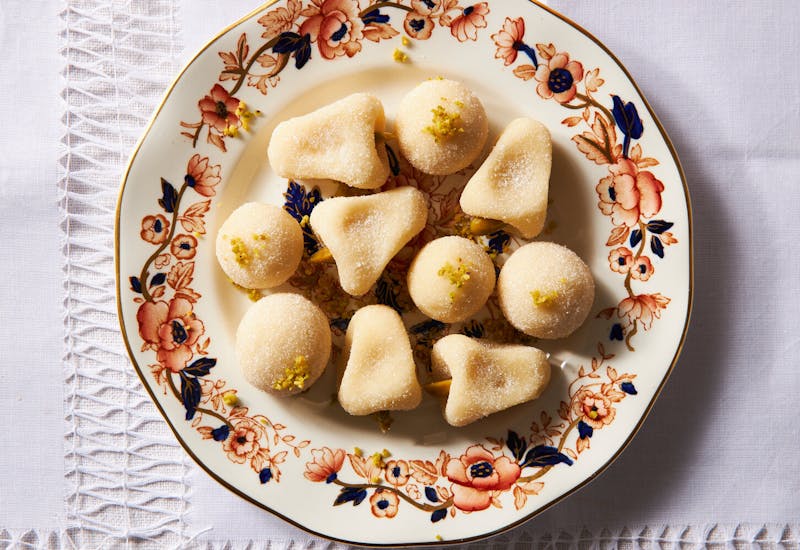 Toot (Persian Marzipan)
Ingredients
1 cup blanched almonds
1 cup confectioners sugar
1 tablespoon rose water
½ cup granulated sugar
10 roasted unsalted pistachios, cut in half lengthwise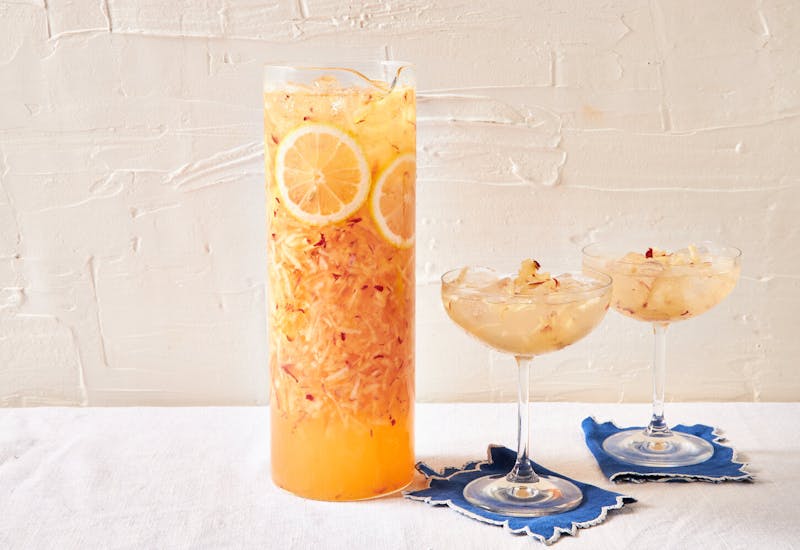 Faloodeh (Chilled Apple Drink With Rose Water)
6 cups
10 min active + 2 to 4 h inactive
Ingredients
7 red apples, cored and grated
1 teaspoon rose water
2 tablespoons sugar (optional)
Water
1 cup ice
1 lemon with the peel, thinly sliced crosswise
As a young girl, Rottem Lieberson always knew when the spring festival of Shavuot was approaching. Her grandmother Hanom would make fresh pasta and hang long strands of it on the laundry line outside of her window. Rottem still remembers seeing the pasta drying in the sun on her way home from school. 
For the holiday, Hanom would mix the pasta with lentils and beans, load it with fresh cilantro and dill, and toss it with goat's milk yogurt. She would then top the final dish with kashk, a fermented and dried yogurt that's formed into a ball and grated like parmesan, which she sourced from Tehran or Arab grocers in Israel. 
The recipe is one of many Hanom brought with her to Israel from Iran when she immigrated as a widowed mother of 10 children in 1955. The pasta was reserved for Shavuot and "if we were lucky," says Rottem, one other time during the year. 
It's a recipe that's from a different age, adds Rottem, who is an acclaimed cookbook author. Today, Shavuot is celebrated with lavish spreads of cheeses and cakes across Israel. But, "It wasn't like that when I was a child," Rottem explains. "This is the holiday that celebrates the earth." 
Her grandmother would always serve the pasta alongside a salad, bread, and a watermelon from her personal stash. "She used to put like 20 watermelons under her bed... in the dark and eat them one by one in the winter," recalls Rottem laughing lightly. 
Today, with the help of store-bought pasta, Rottem serves her grandmother's recipe on Shavuot — and whenever she craves it, no luck required. 

Last fall, Rottem shared a complete Persian Rosh Hashanah menu from her kitchen and Hanom's including Sweet Challah with Caramelized Quince, Red Cabbage, Date and Beet Salad, Dolmeh Beh (Stuffed Quince with Beef and Cardamom) and much more. Check out the full menu here.