Podcast
Welcome to Schmaltzy, our podcast about storytelling,
food and everything in between.
Welcome to Schmaltzy, our podcast about storytelling, food and everything in between.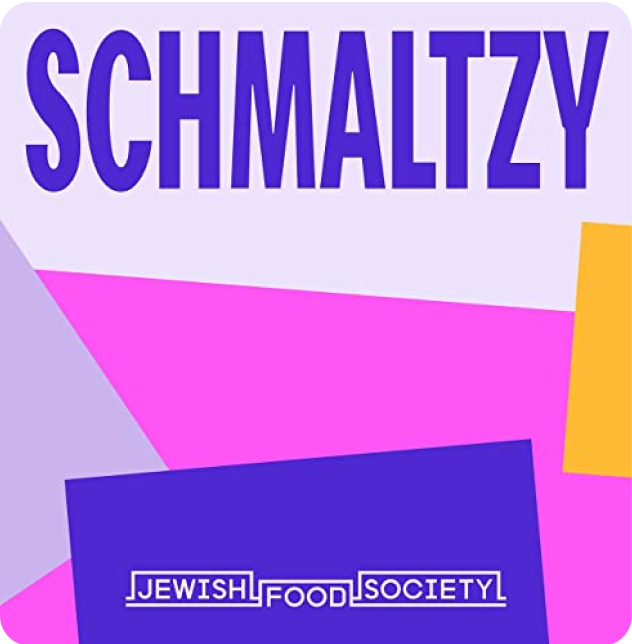 Truth Seeking is Ilana Glazer's Favorite Part of Being Jewish
We are kvelling! On the season 4 finale, the one and only Ilana Glazer joins us to talk about being Jewish on TV, tag team cooking, channeling her grandma Harriet, and so much more.
Mother Knows Best with Ophira Eisenberg
Ophira Eisenberg (NPR's "Ask Me Another") grew up in Calgary, Canada as the youngest of six kids. When her tough as nails mom falls ill, Ophira races home to help out — but rising above being the baby of the family is harder than she thought.
How a Puppeteer Made Recess Therapy's Julian Shapiro-Barnum's Dad Cool
As a kid, Recess Therapy creator Julian Shapiro-Barnum was embarrassed by his dad Lorin. But an unexpected friendship changed all of that.
For Molly Yeh, Home Smells Like Chicken Soup
After moving from New York City to a fifth generation house on a farm in Minnesota, Food Network star and award-winning cookbook author, Molly Yeh, learned how to adapt and make her house a home — with some delicious surprises along the way.
A Schmaltzy Love Story with Mosheh Oinounou and Alexandra Sall
Two New Yorkers arrived at one of our first ever live Schmaltzy events hoping for compelling stories, great food and a vibrant community. They got that plus so much more: their partner for life.
Marc Azoulay Has Friends in Unexpected Places
When Marc Azoulay set out to make art in a maximum security prison, he never thought that experience would end with a visit to a tattoo removal clinic and a very unlikely friend for life.
We're Still Waiting for a Shabbat Invite From Nicole Enayati
Millions of fans tune in to see Nicole Enayati host her wildly popular show, Mythical Kitchen. But the thought of hosting a family Shabbat dinner gave her stage fright on a whole other level.
Ari Shapiro is No Stranger to Hosting a Dinner Party
As the beloved host of NPR's "All Things Considered," Ari Shapiro has been telling other people's stories for years. Now he shares a personal story from his new book "The Best Strangers in the World" about a high stakes dinner party with Washington's elite that had a lot on the line.
Jewish Style is in Vogue with Liana Satenstein
TMI? Not for former Vogue Senior Fashion Writer, Liana Satenstein. Tune in to hear about swearing off shellfish for love, Jewish style, thrifting underwear and more.
Love, Art & Pastrami Sandwiches with Jerry Saltz, Josh Gondelman & Alyssa Shelasky
A sex columnist, an art critic and a comedian walk into the JCC. This isn't a set-up for joke — it's an episode we recorded live at the JCC Manhattan featuring Alyssa Shelasky, Jerry Saltz and Josh Gondelman. Tune in for tales of desserts gone wrong, Roman love, a Jewish trucker and a lot of laughs.
Laurence Jossel's Matzo Ball Journey
Acclaimed chef Laurence Jossel of Nopa restaurant thinks that what makes him most Jewish is his sense of humor. He certainly needed it when faced with an unexpected culinary challenge: making matzo ball soup for a Passover Seder.
Mike Solomonov Can Host a Seder Anywhere
5-time James Beard award-winning chef Michael Solomonov has one foot in the US and one in Israel. He infuses Israeli chutzpah in everything he does stateside, including Passover, no matter what life throws his way.
Latke Love for Kwanzaa with Joshua Silverstein
Joshua Silverstein wanted to electrify everyone's tastebuds at a Kwanzaa potluck party with a cherished dish -- his grandmother's latkes. Little did he know, his attempt at recreating this special recipe would backfire in the most beautiful way possible.
Alison Roman Finally Got Invited to a Bar Mitzvah
Cookbook author Alison Roman shares a personal story about growing up "half Jewish" and finding a meaningful connection with her dad through food. Find Alison's family recipe for matzo brei.
How Idan Chabasov Became "The Challah Prince"
Israeli born Instagram star Idan Chabasov, aka The Challah Prince, had never baked anything until he moved to Berlin. Today, he credits making challah with bringing him out of a dark time and staying grounded.
Koshersoul with Michael W. Twitty
Culinary historian and author Michael W. Twitty shares a preview of his new book Koshersoul: The Faith and Food Journey of an African American Jew — and how he claimed his place at the table.
The Passport Dilemma with Hillary Reinsberg
Hillary Reinsberg took German classes and later studied abroad in Berlin — even as some Jewish friends balked. But, for her, being a proud German Jew didn't feel like a contradiction.
Maira Kalman's Grandmother Married the Wrong Man
Artist Maira Kalman shares a preview of her upcoming book "Women Holding Things" and how she finds inspiration in everything from chocolate cake to broken hearts.
Nancy Spielberg Finds Her (Milky) Way
Nancy Spielberg grew up in Arizona often feeling like she was from another planet. But when her family moved to LA and opened a kosher restaurant, she found a way to fit in.
Susan Alexandra is Her Grandmother's "American Dream"
When Susan Alexandra's grandmother, a Holocaust survivor, passed away, it felt like an earthquake. Susan persevered by channeling her spirit and forging a unique path in New York's very competitive fashion industry.
The Golden Arches with Robby Hoffman
Comedian and writer Robby Hoffman grew up in a strict kosher home, but after she caved to a McDonald's craving in college, her relationship with Judaism would never be the same.
Stepping Up to the Seder with Emily Schultz
Social media maven Emily Schultz shares a funny and poignant coming-of-age story about Passover — and her very first Seder as an adult.
Season Finale: All Tied Up with Peter Hoffman
Before becoming a renowned chef and author of a new memoir, Peter Hoffman was just a young cook in the weeds, preparing a special meal for his mom. Was this the moment to finally take some help from his dentist dad Jules who always asked: "Can I make a suggestion?"
Life, Death and Coffee with Joshua David Stein
Joshua David Stein missed the opportunity to say goodbye to his beloved grandfather because of a mismade coffee. Eventually, he realized there was more to life than a proper macchiato.
There Was Cheese Parked in Adeena Sussman's Garage
In the 1970's, cookbook author Adeena Sussman's parents knew something was missing from their Jewish community in Palo Alto, California. To fill the void, they opened the most unlikely shop in town.
The Pies That Bind Them with Shifra Cornfeld
After Israeli writer Shifra Cornfeld left the Orthodox community she was raised in, she didn't always see eye to eye with her father. But one thing that brings them together is pecan pie — if they can find the perfect one.
Yearning for Zion with Restaurateur Beejhy Barhany
As a young child, Beejhy Barhany left her village in Ethiopia and traveled for three years to reach Israel. But, as she grew up, the Promised Land wasn't quite as she imagined it. Today in New York City, she's created her own Zion at Tsion Cafe.
"This Is the Way We Do It" with Baker Uri Scheft
Acclaimed Israeli baker Uri Scheft grew up in two worlds: a very proper Danish home, that just happened to be located in Israel. Here, there was a particular way to do everything — and it did not include becoming a baker...
The Great Matzo Ball Mix-up with Hariette Skidelsky
Hariette Skidelsky's Romanian grandmother added more water to the soup pot to stretch her recipe everytime she had a new child. As the next generations prospered, the soup grew robust — filled with chicken, vegetables, and matzo balls. That was, until Hariette tried to make it.
Jake Cohen's Very Blended Passover Seder
When cookbook author Jake Cohen started dating the nicest Jewish boy in 2015, he learned that Seder with his future-in-laws looked totally different than anything he ever imagined. Turns out, there was a lot more on the table than the food.
Season Finale with Gil Hovav + Einat Admony
To celebrate the finale of our first season of SCHMALTZY, we've got a double header featuring Israeli culinary icons Gil Hovav and Einat Admony. They share laugh out loud stories — of a shabbat bread called kubaneh and the fiery hot sauce zhug — that reflect on the complexities of growing up in 1970's Israel with Yeminite heritage.
Midnight Latkes with Liz Neumark
One night, 20 years ago, Liz Neumark's kids pleaded with her to abandon bedtime and make latkes. Liz couldn't resist. Today, latkes and the memory of that night hold a deep meaning.
Liz Alpern: A Gefilte Fish Out of Water
When Liz Alpern arrived at business school, she didn't exactly fit in. She rocked a carefully styled lesbian haircut, smelled of onions, and professed a deep passion for her gefilte fish company. At her big presentation, she was met with blank stares from her straight (laced) classmates. For the first time in her life, Liz's path to success was brought into question.
Umber Ahmad's Superpower
During her childhood in Michigan, Umber Amhad was mortified when her mother served lamb pulao at playdates. Years later, the investment banker turned Mah Ze Dahr Bakery owner realized that the dish wasn't her kryptonite, but her superpower.
From MCATs to Katz's Deli with Jake Dell
Jake Dell of Katz's Deli comes from a long legacy of deli men. So, naturally, he planned to be a doctor. One year working in the deli and a moment with a 94-year-old customer changed all that.
Adam Richman Finds Bagels and His Way Home
"Man v. Food" host Adam Richman grew up as a not so typical Jewish kid in Brooklyn. He downed Carribean food, got deep into The Smiths, and rocked a bi-level haircut. Yet, every Yom Kippur, he followed the ritual of prayers, fasting, and bagels. As an adult, Adam felt lost, disconnected from his roots. On a filming trip one Yom Kippur, he found himself on a unique mission: to locate a traditional break-fast meal in Amish country. He ended up finding much more. 
A Very Texan Rosh Hashanah with Zoe Kanan
Acclaimed baker Zoe Kanan's grandmother Helen was an unlikely Texan. A born-and-bred New Yorker, she moved to Houston to be near her daughter and granddaughter — and Jim, not the son-in-law she expected. One year, with a sprained wrist, Helen was forced to hand over the Rosh Hashanah cooking duties to 10-year-old Zoe and Jim, an Irish Catholic former punk rocker whose attempt at homemade gefilte fish included jalapeño. 
Try Zoe's riff on Helen's honey cake recipe .
Introducing Schmaltzy
Welcome to Schmaltzy, our new podcast about storytelling, food and everything in between. For the past three years, the Jewish Food Society has produced "Schmaltzy," a live storytelling event where celebrity chefs, grandmas, tech entrepreneurs and culinary mavens told personal stories about when food, family and tradition converged in their lives. There were tears, there were laughs, there was a lot of nostalgia, and now we're sharing Schmaltzy with you. Pop in your headphones for a front row seat to hear the original live stories from the stage — then we'll go behind the tales with the storytellers for more.